Hotel Indigo Stratford upon Avon
The hotel with a world stage
The eagerly awaited next scene in Stratford-upon-Avon's great performance is here… Hotel Indigo Stratford upon Avon is 93-bedroom boutique hotel in the heart of this picturesque market town.
Steeped in a history that rocks back to medieval times, it was, of course, William Shakespeare who turned Stratford-upon-Avon into a magnet for visitors from around the world. This luxury hotel shares its neighbourhood with his school and birthplace, as well as one of the most famous theatres in the world, The Royal Shakespeare Company.
All of this is reflected in the design of Hotel Indigo Stratford upon Avon. From a theatrically-themed reception and lobby area to the Tudor, Georgian and Contemporary bedrooms that perfectly reference the history of this 16th century building, which resides opposite the Great Bard's final place of residence.
While the hotel is oozing with culture, that's combined with modern facilities – guests are treated to Hypnos beds with luxury Egyptian cotton linen, spa-inspired bathrooms, complimentary Wi-Fi and Nespresso coffee makers in their rooms.
Hotel Indigo Stratford upon Avon is the perfect stage for your adventure to this beautiful neighbourhood.
Three room styles follow the fascinating neighbourhood story of Stratford-upon-Avon. 
The Contemporary rooms are designed and built in the new wing offer a sophisticated and elegant design, the Georgian Townhouse give a touch of luxury combined with homely charm, while the Tudor Rooms in the original 16th century building offers a path to the past, most with views of Shakespeare's New Place.
The stunning designs flow throughout the hotel and the public spaces. 
At Hotel Indigo Stratford upon Avon is 'The Woodsman Restaurant', and 'Falcon Tea Rooms' run by Mike Robinson.
The Woodsman also has a core field to fork philosophy but with cooking focused on a wood fired oven and charcoal grill in the middle of the restaurant.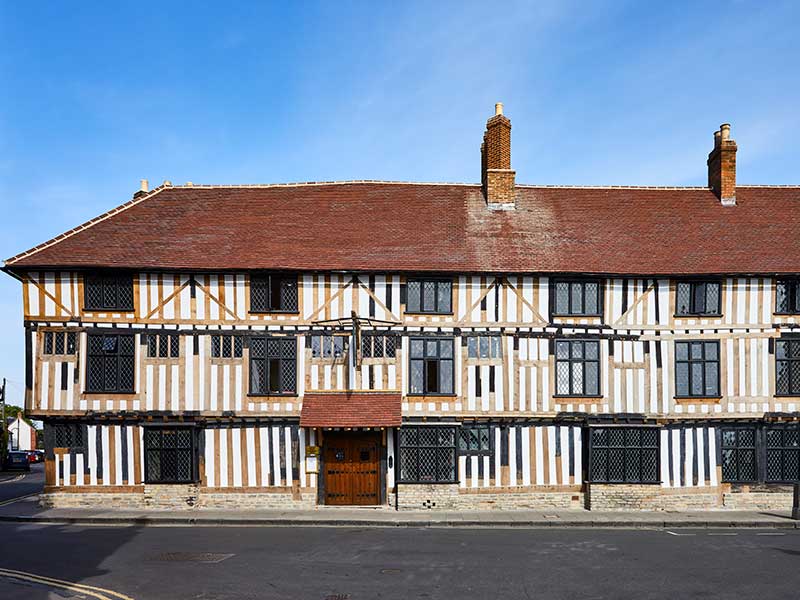 At the heart of our historic neighbourhood
Hotel Indigo Stratford upon Avon is located in the heart of this historic market town.
Directly opposite the hotel is two of William Shakespeare's key landmarks – where he was educated at The Grammar School of King Edward VI and where he lived, at New Place – and the Royal Shakespeare Company Theatre is also just a few minutes' walk away.